By Andrian Putra
Myanmar is an ethnically diverse country located in Southeast Asia. It has eight main ethnic groups inhabiting the country, with 130 distinctive sub-ethnic groups. Of the estimated population of 56 million, the largest ethnic group, the Burmese, comprises about 68% of the population. The remainder minority ethnic groups mostly occupy territories in the various border regions, including the Chin, Kachin, Karen, Mon, Rakhine, Shan, and Wa.
Refugees from Myanmar began resettling in the United States in large numbers around 2008. The mass exodus was due to religious persecution and military junta oppression of minority ethnic groups.
From 2008–2014, approximately 109,000 Burmese refugees arrived in the United States from camps and urban settings in Thailand and Malaysia. Burmese refugees were resettled to multiple different states in the United States, with the majority resettled to 10 specific states including Georgia.
Georgia ranked fifth with over 5,800 Burmese refugees. Prior to arriving in Georgia, Burmese refugees often waited between 3 to 5 years averages for their immigration documentation to be processed by the U.S. Homeland Security.
Often referred to as the "invincible community" – they are often ignored and targeted by local authorities or local enforcement for the wrong reasons.
Challenges in adapting to American life
The majority of Burmese immigrants arriving in Georgia were settled in low-cost apartments in Clarkson, Georgia by refugee resettlement agencies.
Van Kio, a Burmese community activist, first arrived in the United States over 25 years ago. He is currently a successful entrepreneur and owns a construction company that specializes in building churches and houses of worship.
"There are many different Burmese ethnic groups settling in Georgia. The Chins and Karen are predominantly the larger groups while there are also Rohingya Muslims, Wu, Hakka, various minority groups," explains Kio.
Burmese immigrants often face major obstacles in adjusting to the way of life in Georgia. Language barriers and a lack of understanding of American culture are their biggest impediments.
Newly arrived Burmese in Georgia would typically receive three months' worth of subsidized housing. When the initial three-month subsidies run out, they are to survive on their own.
These refugees depend heavily on public transportation for their mobility. The only employment readily available is labor-intensive poultry processing farm work or off-hours warehousing jobs at major supermarket chains. The hours are arduous, and midnight shifts are the norm.
Immigrants often depend on food stamps (SNAP) programs and subsidies provided by the US government to help out with groceries. Immigrants, including Burmese refugees, often waited over three hours at the SNAP office to be interviewed for renewal of SNAP programs.
SNAP dependents received their renewal appointments thru a phone recording call from local SNAP offices.
"It has become a major problem for Burmese SNAP dependents as many don't speak English. They often had to wait over three hours at their scheduled appointments for renewal," said Hang Do Lian, a Burmese case manager at Center for Pan Asian Services (CPACS).
"In addition, many SNAP dependents claimed that they never received a call from local SNAP office. By missing an appointment, a SNAP applicant has to wait for two months before he or she can apply again," said Lian. Many Burmese families that depend on SNAP will go hungry while waiting for their SNAP application.
Burmese immigrants are warned to be vigilant while driving on local roads. "Since they don't speak English, Burmese immigrant often are being cited by local police or enforcement officers as the guilty party," said Lian.
Language discrimination also carries over to workplaces. American managers often accuse Burmese immigrants of misconduct when there is a workplace dispute. Due to a lack of English proficiency, they are often not capable of defending their rights in any dispute.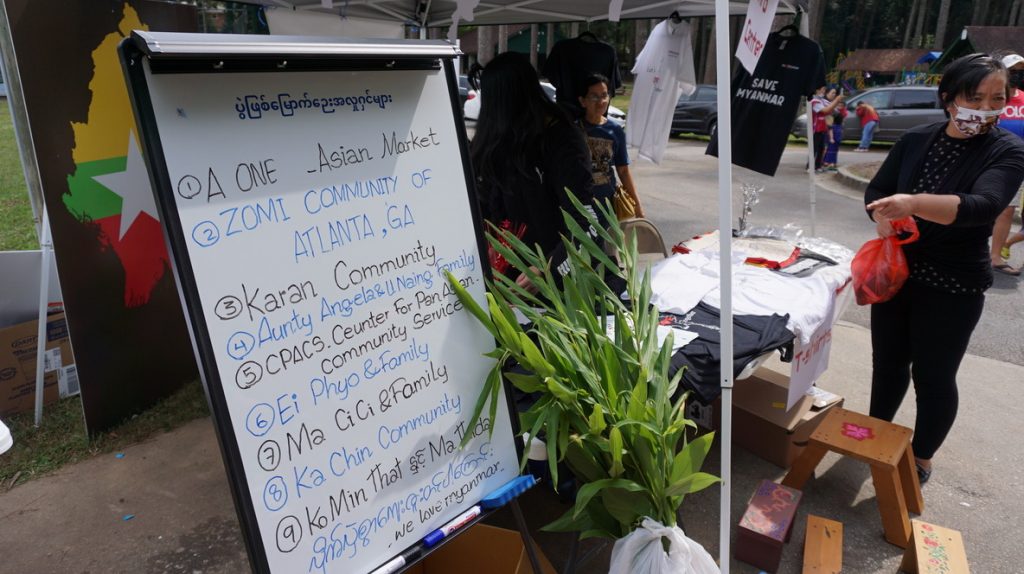 Becoming Entrepreneurs
For those who had successfully adapted to the new country and had some savings, the next step up is an entrepreneurial venture involving operating sushi franchises at Publix or Kroger supermarket chains. These supermarket franchises typically are controlled by master franchisee operated by Burmese immigrant.
Women are attracted to bakery or nursing jobs. Men are usually in blue-collar work such as truck driver, warehousing, or cooks.
Many have endured and eventually find a way to adapt to the lifestyle in America. Kate Chyo, a Burmese Muslim who first settled at Clarkston in 2004. She currently owns her own catering business focusing on sushi. Despite her busy career and family life, Cho makes an effort to volunteer her time to engage with the newly arrived Burmese community.
"I enjoy helping my fellow Burmese people despite our different ethnic background. Burmese have suffered enough back home due to military suppression and as refugees. I would like to give them hope and to help them cope with their new life here," said Chyo.
Another young activist is Aye Chan, who graduated with a political science degree from Georgia State University. She is currently helping to manage her parents' Burmese grocery store in Clarkston. The grocery store has functioned as the unofficial gathering spot for Burmese immigrants on the weekend.
Chan has assisted these Burmese immigrants with translation services and transportation. Many have asked for help with their job applications and legal documents due to a lack of English proficiency. Since many can't afford their own automobiles, I've also driven some families for their medical visits," said Chan.
She recently played a key role in organizing a major rally, "We Love Myanmar," a fundraiser to help pay for medical equipment and supplies for COVID victims in Myanmar.

Social Issues Affecting the Younger Generation
Young Burmese who immigrated with their parents as refugees are facing challenges in their daily life in Georgia. Unable to adapt due to language barriers and failing to cope with school curriculum in middle and high schools.
"Many young Burmese decided to drop out of schools due to family financial pressures. They find low paying jobs at fast food restaurants to help pay for rent, food, utility, and transport," said Chan.
Both activists have witnessed cases of domestic violence inflicted on women and young children. Burmese men, according to Chan, are prone to getting drunk and abusing their wives at home.
Cultural biases also prevent victimized women from speaking up. Traditional Burmese traditions prevent women from sharing home affairs with non-family members or strangers. They often do not understand the U.S. law and their legal rights against domestic violence.
"Many Burmese women still hold on to their traditional notion where you are not to speak up against your husband," said Chan.
"The cycle of poverty deepens when these men are arrested and unable to secure their release from jail. Women are often left to tend to their children alone without sufficient income to pay for living expenses. Due to language barriers and cultural biases, the abused women are unable to seek legal help for the release of their husbands," said Chyo.
Teenage pregnancies are also an emerging problem facing the Burmese immigrant community. Many young school age girls decided to  drop out of school and eloped with boyfriends honing for a better life. Many wanted to escape the congested housing and cycle of poverty, according to Chan.
Gentrification
Clarkston, Georgia has been the destination of choice for refugee resettlement programs. Since the early 1990s, the community has offered an abundance of cheap apartment housing for refugee resettlement. The city is often referred to as the "Ellis Island of the South."
Rent in the area has been slowly rising due to rising property prices. This has caused many Burmese refugees to seek cheaper housing alternatives elsewhere in Georgia. Many have relocated closer to chicken processing farms in Cumming and Gainesville or warehouses in the Stone Mountain neighborhood.
"Burmese families have move out from Clarkston because they can't afford to live here. Many move closer to their workplaces as they don't own transportations," said Chan.
Many neighborhoods in metro Atlanta have seen property values increase, and Clarkston is not an exception to the process. The area has been attractive to young homeowners who are looking for value and easy access to the MARTA subway line. Young homeowners with good-paying jobs drive the demand and cause the prices to rise exponentially.
Political chaos in Burma
Political chaos erupted in Burma when the military juntas toppled Burmese ruling government headed by Nobel laureate Aung San Suu Kyi in February 2021. The military government widely known as "junta" had persecuted political opponents and minority groups such as Karens and Chin in the Northwestern part of the country.
The majority of those who have resettled in Georgia originate from the Northwestern states. Their families suffered regular intimidation, arrests, and attacks by military juntas.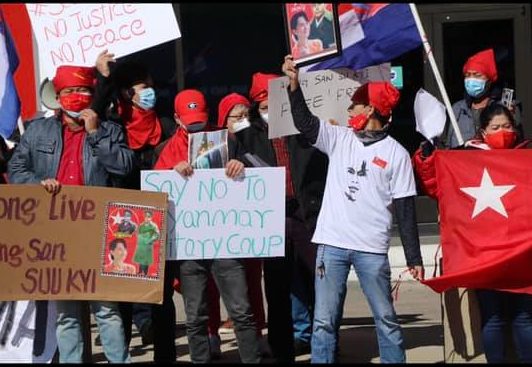 During the last weeks of November 2021, over 200 homes have been burned down by coordinated attacks conducted by Burmese military juntas.
Many families here in Georgia still have relatives and family members living in these areas. They are constantly worried and feel hopeless as news of the attack leaks out of the country, "said Salai Thang, President of the Burmese Chin Community of Atlanta.
Thang has been receiving regular news update on the situation through reporter friends based in Myanmar. He had been sharing it with the local Burmese community on the dire situations in the Chin state.
"The news update helps the local Burmese Chin in Georgia to know if their families are affected by the junta attacks," adds Thang.
Gratitude
Burmese immigrants are strong supporters of local public schools. Many of them didn't have the opportunity to complete their higher education due to war and their political asylums abroad.
Burmese families are appreciative of American teachers, who are often emphatic towards the young Burmese students. Many young students have gained confidence in their studies and excelled in their programs as a result of strong encouragement and assurance.
"My kids are always smiling when they come home from school. They like to share what they have just learned in school. Teachers are always encouraging them to do well, "said a Burmese parent.
"The teachers are always kind, and they always go beyond their duty to help. With that, it gives me hope and confidence to go forward in this country," adds another Burmese parent.