Sudhir Agarwal
President, Asian Pacific American Council of Georgia (APAC)
Senior Director, Tata Consultancy Services
Sudhir Agarwal serves as the current President of Asian Pacific American Council of Georgia (APAC). Agarwal is active with various social and professional organizations in Atlanta including the Chapter President of IIT Alumni Association of Atlanta and the "Indian Professionals Network", an organization founded in 1992 bringing professionals of Indian Origin together. Agarwal is the Executive Council member of International Day of Yoga (IDY) which works closely with various Yoga Organizations to promote Yoga for Health and Mind. He started with an Initiative called 'SprinklingSmiles' in 2020 with his wife Swati through which he was able to help donate more than 200,000 meals including packaged foods, PPEs and groceries to needy in US and India. The organization also organizes a monthly Food Donation drive for homeless people in Atlanta. They also donates blankets for homeless in US and India during winters.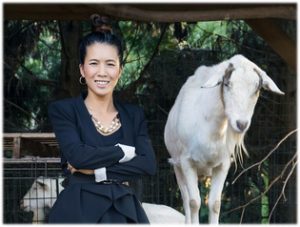 Cam Ashling
Asian American Action Fund, GA Chapter
Owner, Buckhead Goat Farmhouse LLC
Cam Ashling has been a longstanding activist in the community, having co-founded and founded 3 organizations dedicated to increasing AAPI civic participation and political power: Asian American Legal Advocacy Center (AALAC) in 2010 (now Asian American Advancing Justice-Atlanta), the Georgia Advancing Progress PAC (GAPPAC) in 2017 for state elections, and the Asian American Action Fund – GA Chapter (AAAF-GA) in 2020 for federal elections. She was also the Campaign Manager for Representative Marvin Lim, who is the first Filipino State Representative of Georgia. Cam also served in 2020-2021 as the AAPI Constituency Director for Jon Ossoff's successful campaign for U.S. Senate in the historic Georgia runoff election to flip and control the U.S. Senate, and recently served from August 2022 to December 2022 as the AAPI Constituency Director for Senator Raphael Warnock's successful re-election in his second historic Georgia runoff election. In addition to her political work, Cam is active in organizing and being the spokeswoman for the Atlanta 3/16 Asian Justice Rally held annually in downtown Atlanta to combat anti-Asian hate, and also serves on the national organizing committee to coordinate similar efforts across the country.
Dr. Michelle Au, M.D.
Georgia House of Representative District HD 50
Chair, Asian American Pacific Islanders Legislative Caucus
Rep. Dr. Michelle Au currently works in Atlanta as an anesthesiologist. She is a second-generation Chinese-American whose parents immigrated to the United States in the 1960s. She received her M.D. at the Columbia University College of Physicians and Surgeons, and stayed on for residency training in both pediatrics and anesthesiology. She also holds a master's degree in Public Health from Columbia University. Au has served in the Georgia State Senate as a Democratic member for District 48 from 2021 to 2022. Rep. Au is the first Asian American elected to the body. She later won the the Georgia House of Representative District 50 seat in the November 2022 election. Her district includes Johns Creek and a portion of Alpharetta. She was elected by her peers as the Chair of the inaugural AAPI Legislative Caucus at the Georgia House.
Amy B. Cheng
Partner
Nelson Mullins Riley & Scarborough LLP
Amy B. Cheng is a Partner at Nelson Mullins Riley & Scarborough, LLP. She is a litigator who specializes in Business & Commercial, Labor & Employment, and Government and Corporate Internal Investigations. Amy serves as President of the Atlanta Bar Association, the first AAPI President in the Association's 135 history this year. She also serves on the Board of Directors for the Georgia Lawyer for the Arts, on the Board of Directors for the Georgia Coalition Against Domestic Violence, and as Women's Leadership Network co-chair for the Georgia Asian Pacific American Bar Association. She is a graduate of the LEAD Atlanta class of 2022. Her mentors have described her as the sort of optimistic and authentic lawyer that every rising attorney should meet along their journey. She is candid and forthcoming in her advice, and always has the best
intentions of her mentees at heart.
Ming Cheng
Founder & CEO
Ming Food
Ming Cheng is an accomplished and successful entrepreneur in the Atlanta food wholesale industry. He is the proud founder of Ming's Food Inc, established in 1999. It is one of successful supplier of restaurant wholesale goods in metro Atlanta.
Ming is also an active philanthropist in the AAPI community in metro Atlanta. He supports various Chinese community organizations, such as being president of Georgia Atlanta Restaurant Association, consultant for Chinese American Cultural Performing Group, board member of Chinese Community of Chinese Business Association of Atlanta, and a member of Atlanta Chinese Entrepreneur Club.
Bounneth Vongsouvan-Choummanivong
Past President
Wat Lao Buddhakhanti
Bounneth created history by being the first female President of Wat Buddha Khanti, a popular Laotian Buddhist Temple. She made a major positive contribution to the Lao community in Atlanta and served two terms from 2018 to 2022. She is also a successful entrepreneur, owning two businesses.She operated Home Kitchen & Bath By Design with her husband since 1994, which is a kitchen and bathroom renovation company. She also owns full service nails salon with her daughter, Glo Beauty Bar Salon. She currently serves as one of the Board of Director for Wat Buddha Khanti.
Dalone Choummanivong
Founder & CEO
Lon's Countertops
Dalone Choummanivong is a successful entrepreneur and business owner of Lon's Countertops established in 1990. Dalone contributed generously his time and finances assisting the Laotian community in metro Atlanta and in Laos. His philantropy has helped build many schools in Laos and Buddhist temples in several communities in the U.S. His leadership made a positive impact to the Laotian community while he was serving as President of Wat Buddha Khanti temple from 2002-2007.
Sharon Lim Harle
Assistant Vice President
Office Alumni Services and University Special Events
Mercer University
Sharon is passionate is assisting international students and has served as served as a student Ambassador for Mercer University and was the recipient of several outstanding student awards, including the James Baggott Award for Community Service and Academic Excellence.  She also served as a board member of the Inaugural Organizing Committee for the Atlanta Asian Film Festival. Sharon is an active member of Second-Ponce de Leon Baptist Church in Buckhead for 35 years, serving as a member in the Sanctuary Choir as well as in various community capacities. In 2000, she was ordained Deacon and thus became the first Asian deacon in the Church's 160-year history. Sharon was named Who's Who in Asian American Communities in 2007; and in 2020 she was inducted into the Honor Society of Phi Kappa Phi, the nation's oldest, most selective, and most prestigious all-discipline honor society. Sharon currently serves on the Development Board for Day1 Media, an ecumenical nonprofit media ministry based in Atlanta.
Victoria Huynh
White House Advisory Commission on Asian Americans, Native Hawaiians, and Pacific Islanders (AANHPI)
Victoria Huynh is a Community Organizer and has more than 18 years of experience working within international, immigrant, and refugee communities in the state of Georgia. Previous roles include Senior Vice President/Chief Officer of External Affairs at the Center for Pan Asian Community Services. Victoria experiences in her limited English proficient (LEP) Vietnamese Refugee household fuels her passion for community building, strategic planning, and policy work within the immigrant spaces. Since 2009, Huynh actively advocates for equitable language access, encourages civic engagement, protects immigrant rights, champions cultural competency, and has developed vital social service programs. From 2013-2018, she served on the National Regional Health Equity Council. Victoria recently ended her three-year appointment with the U.S. District Court for the Northern District of Georgia on the Magistrate Judge Merit Selection Panel. She currently serves as a federal appointee with the President's Advisory Commission on Asian Americans, Native Hawaiians, and Pacific Islanders.
Soo Hong
Georgia House of Representative District 103
Soo Hong is a Republican member of the Georgia House of Representatives District, representing District 103. She assumed office on January 9, 2023. Her district comprises parts of Gwinett County and Hall County. In addition to serving in the General Assembly, Hong is also a founding partner at Blevins & Hong, a law firm based in Marietta and Duluth. Soo received her B.S. at Georgia Institute of Technology and J.D. from Mercer University. Soo was born in Seoul, South Korea and migrated with her family to the United States when she was 10 years old. She is the first woman of Korean descent to serve in the House. Governor Brian Kemp appointed Soo as one of the floor leaders during the 2023 Legislative Session.
Joseph Hsiao
President & CEO
H Restaurant Group
Joseph Hsiao is the President & CEO of H Restaurant Group. Hsiao was born and raised in Atlanta, working and managing his parents' restaurants. He earned his bachelor's degree in Business Management from Georgia State University. In 2010, he and his brother, Matthew, founded H Restaurant Group. Hsiao has also worked for various companies in retail, sales, customer service, marketing/promotions and hospitality. Hsiao is involved with several non-profit organizations and currently serves on the State Board for the Technical College System of Georgia, Secretary of the Georgia Restaurant Association, President of the Asian Restaurant Council, Board of Directors for the Taiwanese Chamber of Commerce, the US Pan-Asian American Chamber of Commerce – Southeast, and Georgia Advocates for Crime Prevention.
Nabilah Islam
Senator District 7
Georgia State Senate
Nabilah Islam is a Bangladeshi American activist and elected to represent the Georgia State Senate 7th district in the 2022 Georgia State Senate election. She became the first Muslim woman in the Georgia State Senate and the second overall in the Georgia State Legislature. She previously ran to represent Georgia's 7th congressional district in 2020. Due to her progressive stances, she has been described as "Georgia's AOC" and "Atlanta's AOC."
Michelle Kang
Community Organizer
Atlanta Korean American Community Against Asian Hate
Michelle has been an activist in the Korean community as a spokesperson, organizer, community activists, community event planner, and have uplifting the voices of the Korean community. She has joined many multiethnic and multiracial tables and have helped to advance the AANHPI voices. She helped form the Atlanta Korean American Against Asian Hate Task Force, planned the Korean Concert on March 16th while also supporting March 16th and March 17th initiatives to honor those we have lost 2 years ago. She advocated tirelessly for the Korean community in metro Atlanta in participating civically through voter education, redistricting and census.
Baik Kyu Kim
Chairman
Korean Grocers Association
Atlanta Korean American Committee against Asian Hate Crime
Kim has served the metro Atlanta's Korean community with passion and vigor as a volunteer and leader.
He is also the Chairman of the Korean Grocers Association, under his leadership for the past 30 plus years. Under his leadership, he rally the Korean community during the March 16, 2020 spa shooting to stand united against hate crimes. His leadership also led to a successful fund raising campaign to purchase the Atlanta Korean American Community Center in Norcross. The center has the distinction of being the largest Korean American Community center in the world outside of Korea.
Shandry Law
Co-Founder & CEO
Farmer's Basket Restaurant Group
Shandry Law is an accomplished and successful entrepreneur in the Atlanta restaurant industry. She and her husband are proud owners of the popular Farmer's Basket Restaurant, a mall-based food court restaurant chain that serves farm-to-table fresh comfort food with over 10 stores in major malls in metro Atlanta. Shandry is an active philanthropist in the AAPI community in metro Atlanta and Georgia. She supports and fundraises various Chinese Community organizations as President of Chinese-Americans Lions Club of Atlanta, Vice Presidents in Chinese Community Center (CCC), OCA-Georgia, Atlanta Restaurant Association (ARC) and Kwong Tung Association of Atlanta. Shandry is a board member of Chinese Business Association of Atlanta (CBAA), National Association of Chinese Americans (NACA) and Vice President of the Asian Restaurant Council. She is also the Chairwoman and patron of Chinese American Cultural Performing Group.
Dao Malaythong
Co-Founder & Director
Advancing Asian Americans PAC
As a founding Director of Advancing Asian Americans, Dao has a proven record of building relationships with members of various AAPI communities and legislative bodies across America to bring social change for the betterment of all Asian Americans. Dao has been an active community volunteer and serving the diverse Asian American communities in metro Atlanta and Georgia for past two decade. Dao has served as a former President of the Asian Real Estate Association of Atlanta-Chapter. She also founded her own real estate brokerage firm with over twenty-three agents, coaching and guiding them in the value of helping make "American Dreams come true" for countless families. With Advancing Asian Americans PAC, Dao has hope to further empower and strengthen AAPI individuals to engage and to enhance AAPI representations in public offices.
Maggie Mers
President
National Association of Chinese Americans (NACA)
Maggie has demonstrated leadership in the AAPI community for the past 30 years. Maggie serves as President of National Association of Chinese Americans (NACA). She is also a recent graduate of the Leadership Atlanta 2020-2021 class. Her commitment and leadership paves the way for over 65,000 surgical masks to be donated to the local hospitals, nursing homes, and police stations during the Covid pandemic. Under her leadership, NACA donated generously to scholarship programs at GSU Nursing Programs and Georgia Tech's programs.
Farooq Mughal
Georgia House of Representative HD 105
Farooq founded his own governmental affairs firm in 2008, MS Global Partners specializing in Government and Business Advisors. The practice has grown it into a premier bipartisan public policy firm. His core services provide government entities and minority business owners – Asian Americans, Black, Latino, Veteran, and Women-owned enterprises – strategic advice for their economic development, business expansion, technology, and public engagement needs. Farooq is an immigrant from Pakistan and landed in Gwinnett County in 1995. Farooq won his seat for Georgia House of Representative HD 105 in the November 2022 election.
Paul Oh
Director of Public Policy and Community Affairs
Gwinnett Chamber of Commerce
Paul serves to enhance the Chamber's relationships with local, municipal, state, and federal officials, as well as expanding the Chamber's public policy initiative. He has led the Chamber's public policy advisory committee to new levels of engagement with state and local leaders. His work strengthens the connection between business and government that continues to preserve our best-in-class economic climate. Paul represents the Gwinnett Chamber both regionally and statewide serving on the Regional Business Coalition Board, the Georgia Chamber Government Affairs Council, and the Council for Quality Growth Government Affairs Task Force. He prioritizes civic engagement and holds the current position of Secretary for the Gwinnett Mosaic Rotary Club.
Sam Park
Georgia House of Representative HD 101
Georgia House Minority Whip
Sam Park was first elected to the Georgia House of Representatives in 2016 as a member of Democratic Party and he has been serving that district ever since. A proud grandson of refugees from the Korean War and the son of immigrants. Sam was inspired to run for political office after his mother was diagnosed with terminal cancer and was able to receive treatment through public health insurance, Medicare, and Medicaid. He won the 101st district with 51.1% of the vote despite his opponent, incumbent Republican incumbent was being favored to win during the campaign. Sam is the first openly gay man to be elected to the state legislature in Georgia and the first Asian American Democrat ever elected to the Georgia General Assembly. He was appointed to serve as a Deputy Whip of the Georgia House Democratic Caucus in 2017. In 2018, Park was re-elected with 58.81% of the vote, and was selected to serve as the Vice-Chair of the Gwinnett State House Delegation. Sam was elected Georgia House Minority Whip by his peers in November 2022 and made history by being elected to a leadership position in the General Assembly. He also serves on the Higher Education, Industry and Labor, Intra governmental Coordination and Small Business Development committees.
Amy Tep
Co-Founder & CEO, La'Tep Real Estate Group
Amy Tep is a successful entrepreneur and top producing real estate agent. Amy is widely known for her dedication and commitment to serving the Vietnamese and AAPI community in Georgia. She and her business partner Kim La founded the La'Tep Team, a real estate company focused on serving the Vietnamese community. Recognizing the lack of quality service and education within the Vietnamese community, Amy and Kim started creating information videos to help educate homeownership in their community. Their passion and hard work quickly paid off, and the La'Tep Team began to expand and quickly became BHGRE Metro Brokers top producing team in Gwinnett and Georgia. Amy was recently showcased in HGTV's "House Hunting" show and being the first Viet American agent in Georgia to be profiled in the popular show. She and business partner Kim La also co-hosted a popular Vietnamese podcast channel, Tam Su Voi, as part of the GAT community podcast channels.
Josephine (Arjho) Carino Turner
Founder/CEO- ACT International Consulting, LLC
Mindanao Outreach Director, Galing Foundation, Inc
As a community leader in Atlanta, Arjho held responsible positions in different Filipino organizations such as GFI, Fil-Am of Greater Atlanta, and the Philippine American Chamber of Commerce of Georgia. Arjho is instrumental in driving the Filipino community engaged in local Georgia civic engagement and cultural events such as the MLK Global Expo, the Cobb County International Festival and the Dogwood Festival. She always focus on showcasing the Filipino heritage and culture. Arjho has recently rallied the Filipino community together to host the first ever Filipino Olympic Gold medalist in Atlanta. In her capacity as Galing Foundation, Inc.'s (GFI) Mindanao Outreach Director based in Atlanta, she has been coordinating programs and projects for different Mindanao Schools since 2007, positively impacting over 500 pupils and students in the Philippines. She was able to engage various Indigenous Cultural Communities in Mindanao to be part and partners for the Library Development and Educational Resource Assistance (LDERA) Program, including building of Libraries for these schools.
Long Tran
Georgia House of Representative HD 80
Long Tran is a son of Vietnamese refugees and a small business owner of Peachy Corners Cafes. He has worked with Asian American small businesses throughout the pandemic to help them get PPE loans, unemployment money, and more. Prior to running for office, Long has been down to the Capitol to advocate for immigrant rights, as well as to speak about Vietnamese experiences. He has joined rallies and written letters advocating for people's rights. In Dunwoody specifically, Long has curated relationships with the mayor and city council to advocate on behalf of the immigrant communities there. Long believes in expanding opportunities for people to vote, ending racial biases in Georgia's Public Service Commission, and increasing overall representation. Long was elected to the Georgia House of Representative District 80 seat in November 2022 election. He also hosted a radio show on AM 1040 and FM 99.1.
Jonathan (JT) Wu
Founder, Preface Project
Chairman,Gwinnett County Public Library System
Co-Founder & Executive Director, Emerging Voters
Jonathan "JT" Wu is an accomplished public and private sector executive with a deep passion for high-impact educational policy that supports the next generation. Wu serves as the Chairman of the Gwinnett County Public Library Board of Trustees, overseeing the largest circulating library system in the state of Georgia. The first Asian American to ever hold the role, he oversees the sprawling gold-standard system's 15 branches, $25M+ budget, and 250+ staff members, and has overseen a 10x ROI for public funds invested in the system, delivering over $258 million in workforce development, cradle-to-career learning, and multilingual educational initiatives in 2022 alone. Wu is also the Founder and Executive Director of Preface – an award-winning, Georgia-grown, and nationally operating early childhood literacy nonprofit initiative that recruits and trains service-oriented high school students to enhance early childhood literacy in their own local classrooms. More recently, Wu has been recognized by the Points of Light Foundation as a community change maker, named a Young Leader by the Council of the United States and Italy, and chosen as a GeorgiaForward "Young Gamechanger" by the Georgia Municipal Association. An alumnus of both Gwinnett County Public Schools and the McCallie School, Wu graduated cum laude with a degree in Public Policy from Princeton University's School of Public and International Affairs.
Anqi Zou
Senior Vice President, Artificial Intelligence Innovation Leader
Truist Bank
Anqi Zou has made significant contributions to Atlanta AAPI community through her leadership and service on the board of the National Association of Asian American Professionals and role as Senior Vice President, Artificial Intelligence Innovation Leader at Truist Bank. Her tireless efforts have brought about positive change and have helped to advance diversity, equity, and inclusion in her community and workplace at Truist Bank. Furthermore, she has demonstrated an unwavering commitment to her profession and advocating for women in technology and STEM careers, consistently going above and beyond in her service to organizations like Women in Technology (WIT). As a 2022 graduate of LEAD Atlanta, a prestigious leadership development program organized by Leadership Atlanta, she has also established meaningful connections with people from all walks of life, having mentored hundreds of students and professionals along their career journey and speaking regularly at conferences and events nationwide.