• Winter bamboo shoots, because they grow so tall, suggest the phrase "Year after Year, Ascend to Great Heights ".
• Tangerines in Chinese sounds like "Luck".
• Giant pork meatballs, or "Lion's Heads", and hard boiled eggs (one for each member of the family) symbolize happy reunion because of their round shape.
• Fish, sounds like "yu" which means in abundance . It stands for endless wealth and happiness. • Chicken or fi sh served whole with head and tail to suggest "a favorable start and fi nish" and symbolize the unity of the family.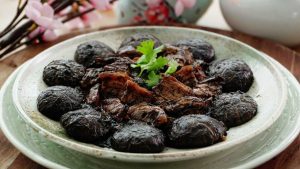 • Oyster because it sounds like "Ho See" which means "Good Business" • Hair seaweed or black moss seaweed because it's called "Fat Choy", close to the sound of "Good Fortune"
• Shrimp symbolizes "Happiness" as it's called "Har" which is like laughing – "ha ha ha" • Lotus roots, in Chinese is "lin ngau " , which sounds like "lin yau", which means "every year you have plenty."
• Lotus seed in Chinese is "lin jee" , which sounds like a phrase that means "every year you have a son." To the Chinese, having a son is very important