By Libby Hobbs
Norcross, July 15, 2022—In sequined dresses, sharp suits, or traditional Asian clothing, about 200 guests gathered at Crowne Plaza Atlanta NE to celebrate the 25 most influential Asian Americans in Georgia. Friday's gala marked the 16th annual one organized by Georgia Asian Times.
From chefs, to politicians, to community leaders, these 25 individuals are all helping the AAPI community find their voice. And, with appearances by Georgia Senators, Jon Ossoff and Raphael Warnock, this event proved that people were starting to listen.
Being the night's keynote speaker, Senator Jon Ossoff arrived just in time for his speech. First, however, his fellow Georgia Senator, Raphael Warnock, sent in a video congratulating the 25 honorees.
Warnock noted last year's increase in ant-Asian hate crimes by 339% and acknowledged the 2021 Atlanta Spa Shootings. He highlighted his co-sponsorship of the COVID-19 Hate Crimes Act that ensured communities "have what they need to seek justice."
"We cannot give up the fight to ensure everyone feels safe in the places and the spaces where they live, shop, or pray … This is no time for politics as usual. These times cry out for moral leadership," Warnock said.
With the strum of an electric guitar, Ossoff was welcomed to the stage by walk-on music, which he noted he doesn't usually have. He began his speech by calling for a standing ovation applause to honor the 25 most influential Asians.
Then, Ossoff thanked the top 25 for their service and also the opportunity to come together and create the space to celebrate Asian American achievements in Georgia. Ossoff recalled his mother's immigration to America and the ideals he believes we should return to.
"The spirit of division, hatred, racism, [and] xenophobia, must be defeated so that we can continue to build a state and a country that's founded on love, on mutual respect, on tolerance, on a commitment to the principle that our shared humanity is our most important identity," Ossoff said.
Lisa Chang, one of the 25 Asians, works with diversity, equity, and inclusion at the Coca-Cola Company as Global Chief People Officer. As an advocate for AAPI in leadership, she felt that it's important for the community to be supported not just by other AAPI but also allies and partners.
"It was great to have representatives from our state government present at this event as a sign of support," Lisa Chang said.
Ossoff also mentioned the March 16 Atlanta Spa Shootings, calling them an "appalling murder." He wanted Georgia's Asian American community to know that he will work steadfastly to protect, serve, advocate for, and be an ally to in his daily work in the U.S. Senate
"Please know that my team and I are here to help you in any way that we can. There's nothing too small. There's nothing off-topic. I work for you," Ossoff concluded.
Before his departure, Ossoff also took time to greet the crowd, take pictures, and hear the concerns of the Asian American community. His representatives were available to speak and connect with those in attendance.
Following the keynote speech, dinner was served and awards were given out. Cam Ashling, one of the honorees, has helped rally AAPI voters in Georgia. She spoke on the invisibility of Asian voice in mainstream media but yet the ability Asians have to make real change.
"This is 200 most influential Asian Americans in the state of Georgia. Go out and do something."
State Representative in Georgia House District 99, Marvin Lim, is an honoree that also wants to see action from the AAPI community.
"I would like for the Asian Pacific American community to be consistent in their participation in our government. Certainly that includes elections, but that also includes showing up at our local school boards [and] participating in civic society," Lim said.
AAPI voice can be found through food as well. Mia Orino, co-founder and chef of Kamayan ATL, was also one of the top 25 most influential. She shares how her mother's dementia made it difficult to verbally pass down recipes. As a way to grasp memories, Orino learned how to cook.
"When I first moved here four years ago, we had no Filipino restaurant. It's like you're there but you're not being seen," Orino said.
Before starting her restaurant, she didn't even know how to boil an egg. However, she says her passion to have Asian representation in future generations overpowered her fear of starting a business. Today, her restaurant not only shares Filipino culture but also forms a community.
"We go beyond food in order to share our cuisine, and make sure that the next generation knows what representation means and how much it matters," Orino said.
Nikita Trivedi found the night to be about more than just being recognized for achievements. She helps make connections to grassroots Asian organizations through the National Association of Asian American Professionals.
As an attendee to the gala for several years, she noted the advancement in female representation in the 25 most influential and the importance of hearing stories like Salai Thang's.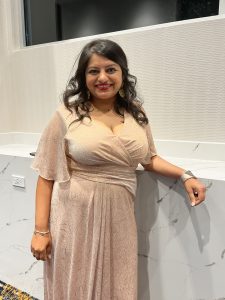 "19 of the 25 honorees today are females. That is a huge achievement. And that speaks to the power, the advocacy, the grassroots activism that my fellow honorees have shown. So it means a lot to me to be in that league to be in thesame room," Trivedi said.
Salai Thang was one of the honorees and also President of the Atlanta Burmese Chin Community. Thang calls for help and awareness as he described the arresting, killing, torturing, and burning of houses towards the Burmese people by the military government.
Even though many that celebrated Friday night will continue to advocate for more change, there were milestones still to be relished too. Asian voices continue to grab more attention from the general public, including the gala's sponsor, Georgia Power, and Sheryl Vogt, director at the University of Georgia's Special Collections Library.
"Every year we're seeing more and more APPI community members involved in our state's government and leading in communities. They're appearing more and more in our media. So it's really important to document the role that they're now playing in effectively changing policy in Georgia," Vogt said.
Vogt announced a partnership between Richard B. Russell Library at UGA and Georgia Asian Times. Through this collaboration, they hope to document Asian history.
The 25 most influential Asians encouraged the rise of AAPI voices and the presence of guests like Jon Ossoff and the Consul General of Japan in Atlanta, Kazuyuki Takeuchi, prove that the event was a place where the state of Georgia and the Asian community unite.
"That's the other thing about an event like this. When we come together, we're stronger than [when] we are alone," Chang said.