Atlanta, May 2, 2022 – A group of Filipino Americans comprised of retired members of the US Armed Forces, community leaders, academics, corporate executives, civic leaders, partners and sponsors, and veterans' families have banded together in an effort to naming a US Navy Warship after a Filipino American war hero.
"The goal of the project was to honor the sacrifice by honoring Fireman Second Class Telesforo Trinidad's heroic action for saving two shipmates onboard USS San Diego in 1915," said Nonie Cabana, project leader of the US Ship Telesforo Trinidad Campaign (USSTTC).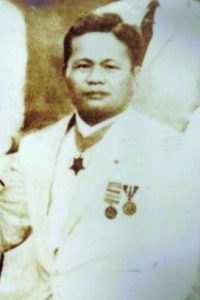 Trinidad was born November 24, 1890, New Washington, Aklan Province, Panay, Philippines. He stowed away on a ship to move to Cavite, to improve his chance to join the US Navy because Sangley Point was a Navy Base located in Cavite City. He enlisted in the US Navy as part of the Insular Force in 1909 and transferred to Fleet Reserve in 1926. He lived in Imus, Cavite, Philippines until his passing on May 8, 1968, at the age of 77.
He earned the Medal of Honor for saving two shipmates on board USS San Diego during two boiler explosions on the Coast of California in Apr 1915 incurring burn on his body and face. Yet, he risked his life to save lives. To date, Trinidad remains the only Asian and Filipino who earns the Medal of Honor in the US Navy.
There are only three ships named after Asia-American Pacific Islanders – a DDG named after a Sailor Navy Cross and Silver Star winner; and a DDG and USNS T-AKR named after Army Soldier Medal of Honor winners.
– USS CHUNG-HOON (DDG 93) named after Rear Admiral Gordon P. Chung-Hoon of Chinese and Native Hawaiian descent.
– PCU DANIEL INOUYE (DDG 118) named after Sen Inouye and Medal of Honor recipient 2nd LT Inouye, US Army – a Japanese-American.
– USNS PILILAAU (T-AKR 304) named after Army Pfc Herbert K. Pililaau, a Korean War Medal of Honor recipient and a native Hawaiian.
Recently, the Secretary of the Navy name a US Navy Tanker in honor of former Associate Justice of Supreme Court Thurgood Marshall during the Black Heritage Month in Feb and name another tanker in honor of former Associate Justice of Supreme Court Ruth Bader Ginsburg during Women's' History Month in March.
"It would be fitting and momentous for the Secretary of the Navy to name a combatant ship honoring Trinidad during the Asian America Pacific Islander Heritage Month in May," adds Nonie in his remark.
"Naming a ship honoring Trinidad sends a strong message that America embraces diversity, equity and inclusion. Recognize one and recognize thousands. The new generations of Americans of Filipino descent serving our military would keep their heads up realizing their contributions in the military are recognized and honored."
To date, the project have garnered close to 100 supporters from the US Congress as well national resolutions from the Veterans of Foreign Wars, American Legion, American GI Forum, Chinese American Citizens Alliance. Equally important, a letter to the President of the United States was penned by National Federation of Filipino Associations and Philippine Nurses Association of America, Inc. Local mayors from San Diego, Vallejo City and San Antonio wrote the Secretary of the Navy to support this endeavor. The group have also garnered support from 33 influential organizations.
"The general public can write their local, state and national leaders to garner grassroots support by writing the Secretary of the Navy and the President of the United States to support this campaign," said Cabana.
For more information: www.ussttc.org