By Libby Hobbs
Movement stills as eight rings of a gong loudly echo through the silent space. Eight rings for the eight lives lost: Delaina Ashley Yaun, 33, Paul Andre Michels, 54, Xiaojie "Emily" Tan, 49, Daoyou Feng, 44, Soon Chung Park, 74, Suncha Kim, 69, Yong Ae Yue, 63, and Hyun Jung Grant, 51.
Elected officials, organizers, family members, and supporters gathered at Georgia Railroad Freight Depot in downtown Atlanta on Wednesday, March 16, each with their own reason for giving their support to the Asian community on this day in particular. March 16, 2022 marks the one year anniversary of the Atlanta Spa Shootings.
Despite the diverse group of people, all rallied together to demand Asian hate be put to a stop, tell the stories of AAPI people, women especially, and mourn the tragedy of eight lives gone. For the AAPI community and beyond, the March 16 shootings brought heartache but it also sparked something new: a united community ready to use their powerful voices to bring true change.
The final fall
"That's when I started full force to start representing Asian Americans. So, [March 16] wasn't necessarily the catalyst, it was more so the final fall," May Hu said.
May Hu, a student at the University of Georgia, has organized an initiative called "rePresenting Asian Americans." She says that people view Asian Americans as worker bees, silent, quiet, off to the side, siloed, something that's foreign, and not as leaders or Americans. This is what inspired her initiative because she wants the Asian community to feel empowered and bring awareness of the community to all people.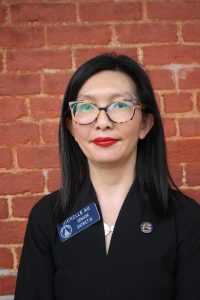 Michelle Au, Georgia State Senator representing District 48, also sees that the Asian community has been repeatedly harmed.
"These are the types of crimes, not just this crime in isolation, but as part of a series of racialized hate crimes, violations, that we've seen against the AAPI community, not just in the last year, not just in the last few years, but really, for decades, if not centuries," Au said.
She says the Atlanta Spa Shootings are part of the newest chapter of an old story. She encourages people to acknowledge that these incidents happen, that the AAPI communities are not invisible, and that voices need to be raised against hate.
Lifting Asian voices
"[AAPI students'] voice matters. There are certain cultural things in the Asian community like keep your head down, work hard, don't cause a fuss, don't complain… in the American system, that doesn't work. So [I tell my students] how they can leverage their voice so that they're honoring their families, but also protecting themselves, family, and bringing service to the community," Jennifer Fero said.
Jennifer Fero, the community school director at Peachtree Ridge High School and founder of the Asian Student Alliance, works closely with students on a day to day basis. Following the Atlanta Spa Shootings, she has made a mission of helping her students know their voices are important to the community and need to be heard.
Fero said throughout her time working with students, she'd have to work on humility, work ethic, and discipline with her American students. With her Asian students, she only had to work on agency and voice.
Carrie Templeton helped organize the rally in Atlanta last year and a "Proud to be Asian" event. Because of that, she wanted to be a part of this year's event, even if she wasn't the organizer or host.
Templeton also has a six year old daughter who is Native Hawaiian. She's had to navigate how to tell her daughter that Asian women's voices need to be heard yet are continuously taken away.
"I told her the truth. I told her a bad man went and killed a bunch of Asian women who were at work, just doing their thing, and he hurt them just because they were women of Asian descent. And she got very upset about it, but she's six and I mean, it's time for her to know and I want her to know that Mommy is here and all of these people are here to help you and make you feel supported and safe," Templeton said.
Bringing more awareness to Asian voices and to the issue of Asian women being attacked has been one positive change in the past year, believes Monica Khant, executive director of the Asian Pacific Institute on Gender Based Violence.
"The one thing in the positive that I've noticed is, the attention to this issue has increased. However, with that said, the crimes, the violence against our community has not decreased. Women are still targeted… there is still so much work to be done, even despite the new attention being brought to this issue," Khant said.
There is a need for more. More conversation, more awareness, and more action. JT Wu, candidate for District 97 in the Georgia State House, thinks the uplifting of Asian voices has helped the community find their political voice, which brings the community closer and gives them power.
Rise up
"The impact from Asian American voters was astronomical and went from being the marginalized group of voters to being the margin of victory," Cam Ashling, organizer of the rally and founder of the Georgia state chapter of the Asian American Action Fund, said.
Across the 48 States with vote history, there was a 45.8% increase in total votes cast by AAPI voters and 11.9% increase among all other voters from the years 2016 to 2020. In the Georgia runoff election, the total AAPI vote increase for all age groups increased by over 100% from 2016 to 2021.
Ashling believes voting is a way to show AAPI power. She encourages all AAPI to be aware of the upcoming midterm elections in Georgia. The impact Georgia AAPI voters had on the runoff election is proof the community can be the change they want to see.
"Between presidential [elections] is another very important race, and this time, is a race for the governor. And the governor is like the president of Georgia… now we need all Asian Americans to come out and vote for the president of Georgia and that directly impacts how you live day to day," Ashling said.
In addition to rising in the polls, changing the education system can help AAPI gain more awareness. Hu has effectively gotten approval for the first ever programming for Asians within the Terry College of Business at UGA. She's helping "rePresent" AAPI by creating a mentorship program at her school.
Ashling also wants Asian American history represented in the school system.
"… part of the reason we're perpetual friggin foreigners is because we are not considered Americans. If we were in the American textbooks, in US history, and AP US History, maybe that will help our young people start to see that Asian Americans are Americans," Ashling said.
Hu explained that AAPI people need to embody the "American mentality" of speaking up and advocating for oneself because in such an individualistic culture, nobody else will do that for you. As more and more AAPI do this, the community can grow, evolve, and become stronger together. Then, real success and change can come.
Ashling has one final point to make:
"… think about the grandmas in our community, [the] Asian women in a community that are targets of hate and violence. Just don't let it happen to you before you recognize that it is a problem," Ashling said.
Libby Hobbs is a first year student at the University of Georgia and proud Chinese American. There, she is an intended Journalism major and Music minor. In addition to writing for the Georgia Asian Times, Libby is a full time student and also contributes to the Culture beat of the Red and Black. She hopes to combine her passion for music and writing by sharing stories of artistry with the world. As an adopted Chinese American, Libby hopes to continue lifting AAPI voices, whether it be in the music world or elsewhere.
Voices of Community
"Well, I've been doing community work for a very long time and I just feel that no Asian should be silenced. We, as a minority group, need to stand together to be stronger." – Jimmy Keokongsy
"All my life, I've seen the racism as you know, a Black person in America. I've seen racism against people I've been friends with who are Asian, people I've been friends with who are Arab, people I've been friends with who are Mexican… and just seeing how it all connects, how across very different cultures, we still have these very similar stories of this racism and harassment and stereotypes that are forced onto us by a white power structure." – Bezaleel Jupiter
"I think [the Atlanta Spa Shootings are] definitely still… at the back of your mind. When you do anything, there's this idea of fear that's sort of instilled in you and then there's this idea of being isolated from society and not being a part of [the] accepted and mainstream because you know that you're being targeted." – Allison Wang

"I just wanted to show my support. Yeah, I think that a year after this, you know, we are all still kind of dealing with the impact to our community. As an African American as someone who identifies as LGBTQ, I really wanted to show my support for the Asian community." – Collen Reedy