It's that time of the year where Georgia Asian Times recognizes the 25 Asian Americans Pacific Islander individuals who have make an impact in fields ranging from business, education, community service to politics. We honor these individuals for their contributions and dedication in their roles within the community.
We admit that the roster is incomplete and we may have omitted some well qualified Asian American Pacific Islander individuals. The list of "most influentials" have been submitted through online nomination and vetted by our selection criteria.  Some names are familiar but a majority of the honorees deservingly earned their way to the roster.
Natalie L. Ammons
Deputy Director of Public Affairs
Georgia Bureau of Investigations
Ammons has been employed by the Georgia Bureau of Investigation (GBI) for 27 years and is currently the Deputy Director of Public Affairs, appointed in June 2018. In this role she assists the Public Affairs Director in coordinating all aspects of media and public relations for the GBI. Additionally, she serves as a legislative liaison to Georgia's legislature and the Governor's Office on behalf of the agency. Ammons coordinates several law enforcement organizations on a local and national level. She also created and now assists in managing the social media sites for the GBI, as well as plans and has hosted quarterly training around the state for public safety public information officers in Georgia since 2014.
Ammons is a proud representative of the African-American and Asian-American communities in her work in public service and her personal life. Her mother is from Baguio, Philippines and immigrated at a young age with her parents and two siblings to San Francisco, CA in the 1950s. Ammons was born in Atlanta, GA, but moved to San Francisco with her mother when she was 10 and lived with her and her Lola until she graduated high school and moved back to Atlanta. Since 2019, Ammons has been involved with the annual Kalayaan Atlanta Celebration and became a committee member in 2020.
Senator Dr. Michelle Au
Anesthesiologist, Emory St. Joseph Hospital
Georgia State Senate (District-48)
Dr. Au is a member of the Georgia State Senate, representing District 48. She won in the general election on November 3, 2020 becoming the first Asian American woman to be elected in the Georgia Senate. Dr. Au earned a bachelor's degree from Wellesley College in 1999, an M.D. from the Columbia University College of Physicians and Surgeons in 2003, and a master's degree in public health from the Columbia University Mailman School of Public Health in 2018. Her career experience includes working as a physician and an equity partner at Physician Specialists in Anesthesia at Emory-St. Joseph's Hospital. Dr. Au is a strong advocate for science and healthcare voices in the Georgia General Assembly and AAPI representation. Factors like access to affordable healthcare, access to economic opportunity, access to quality education, and public safety are her top priorities.
Cam T. Ashling, CAIA, CFP
Co-Founder and Chairwoman, Asian Americans Action Fund
Cam is a professional private wealth and investment advisor. She is also well known for starting a goat farm in the heart of Buckhead neighborhood. She is the owner of the Buckhead Goats brand and operator of the Buckhead Goats Farmhouse. Ashling, a longtime Democratic activist who also served as a member of the Georgia Asian Americans and Pacific Islanders for Biden-Harris leadership council, immigrated to Georgia in 1988 as a political refugee from Vietnam. In addition to being a community activist, she is a single mom of a three year-old. She is an active advocate for the AAPI community especially on issues related to social justice and equality. Ashling also found and chair the first AAPI progressive political action committee fund – the Georgia Advancing Progress PAC (GAPPAC) that works on local state elections. She later started a chapter of national election fund – Asian Americans Action Fund, a fund to support candidates that supports AAPI political activism and causes.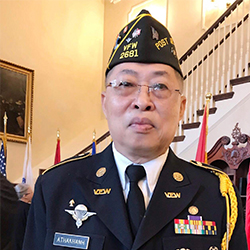 Manousack Jimmy Athakhanh
First Lieutenant of the US
Royal Lao Veterans
Lieutenant Athakhanh is a member of Veterans of Foreign Wars of the United States of America and has been helping his Laotian community for a long time. His passion and dedication to community service assisting Laotian communities in several states in the US are well documented. As an active member of Royal Lao Airborne service, he has serves seven states including GA, FL, AL, TN, NC, SC and IL. His most recent project was to provide essential items and food assistance to community during Covid-19 pandemic. With his Airborne post, he has helped thousands of people and he has also partnered with Laotian American Society to help to provide lunch for children during the pandemic. He has been recognized with awards from Governor Brian Kemp and Mike Ruby for his service during the Vietnam War. He was awarded a a Certificate of Special Recognition in Commemoration of 50th Anniversary of Vietnam War. He has also been recognized by the CIA for his service in Laos during the War.
Ting Chiu
President
Ting Enterprise
Prior to her career as a Certified Financial Educator, Ting Chiu was a devoted teacher at Nesbit Ferry Montessori School for over 15 years. She has dedicated her career to helping others through children's education, financial advising and education, and her non-profit contributions. She has helped thousands of students obtain scholarships. In 2019, the Taiwanese government appointed Chiu as an Associate Advisor of the Overseas Community Affairs Council. In 2020, Chiu received the prestigious Hua Kuang Award, which recognizes the top 10 female Taiwanese entrepreneurs globally who have innovated their own businesses, created economic growth, contributed to public welfare, and served the community tirelessly.
Stephanie Cho
Executive Director
Asian American Advancing Justice-Atlanta
Stephanie brings over 20 years of experience in labor and community organizing, strategy planning, and fundraising at the local and national level.  Originally born in South Korea, Stephanie grew up in Oregon. After University, she started her career in organizing and movement work. She has been a community organizer, program director for LGBTQ youth programming, director of training for a national fellowship program, a labor organizer, and organizational consultant. Before coming to Advancing Justice, Stephanie was the Los Angeles Director of the Restaurant Opportunities Center (ROC-LA) where she worked to raise industry standards and wages for LA's restaurant workers.
She believes in creating more space for new leadership, developing healthy and sustainable ways of working towards justice for all, and is moved by transnational forms of expressions of solidarity and movement building. Under her leadership, AAAJ plays a critical role in tripling the Asian American voters turnout in 2020 elections and the Georgia Senate races.
Angela Hsu
President
Georgia Asian Pacific American Bar Association
Angela is a Counsel and a member of the Bryan Cave Leighton Paisner Real Estate Group. She has extensive experience in a multitude of real estate deals, having worked on both sides of the table during her career. Angela represents developers, sellers, purchasers, landlords, and tenants in numerous types of commercial real estate transactions including mergers and acquisitions. She also has substantial experience in corporate governance, corporate responsibility, healthcare and performance management for public companies during her 18 years as in-house counsel.  Outside of her legal practice, Angela is passionate about the legal community, serving as Chairman of the Board State of Georgia Commission on Equal Opportunity and the President of the Georgia Asian Pacific American Bar Association.
Victoria Huynh
Senior Vice President
Center for Pan Asian Community Services Inc. (CPACS)
Victoria Huynh is a Senior Vice President of the Center for Pan Asian Community Services, Inc. (CPACS), the first, largest, and oldest organization in the Southeast to focus on issues and concerns of Asian Americans, immigrants, and refugees.  Huynh's experiences in her limited English proficient (LEP) Vietnamese Refugee household fuels her passion for community building, strategic planning, and policy work within the immigrant spaces. Since 2009, Huynh has advocated for equitable language access, encouraged civic engagement, protected immigrant rights, championed cultural competency, and developed vital social service programs. She currently serves as the lead of the CPACS' Advocacy team.
From 2013-2018, Huynh served on the National Regional Health Equity Council. In 2015 and 2017, the Georgia Asian Times recognized Huynh as an honoree of the 25 Most Influential Asian Americans in Georgia. Huynh was recently appointed to a three-year term with the U.S. District Court for the Northern District of Georgia on the Magistrate Judge Merit Selection Panel.
Rose Jarboe
Co-founder & CEO, WePartner
Chairwoman, Loyal Trust Bank
Rose is the Chairwoman of Loyal Trust Bank in Johns Creek, Georgia, the second new bank
to have opened in 11 years in Georgia. She is a Board Member of True Love for Special Needs Families, Inc. "True Love", a non-profit organization with the goal of taking care of families with special needs. With over 20 years of experience in finance and real estate, she leads the company in strategic planning, decision making and oversees all business activities. Rose continues to be an influential force throughout the real estate industry by not only building successful real estate investments, but by developing long-term relationships through her dedication, honesty and hard work.  Prior to founding WePartner, Rose spent nine years as a corporate controller of a regional nursing home management company. She mentored and developed a team of excellent accountants. She is passionate about continuously improving all aspects of the business and truly believes in a partnership approach with everyone around her.
Jassy Ji 
Project Manager, Manufacturing & Supply Chain
Partnership Gwinnett
In this role she is responsible for fostering these target industries in Gwinnett County and working with state and local partners to bring new jobs and capital investment to the community. Jassy manage new projects, support the existing businesses and manage programs that support those in the manufacturing and supply chain industry. Jassy is instrumental in recruiting in-bound investment by international companies and assisting them with their business expansion into the US.
Cherie Kloss
Founder & CEO
SnapNurse
Cherie is the founder and CEO with an 18-year history as an anesthetist, launched SnapNurse to offer a more efficient ecosystem for both healthcare facilities and nurses to work together. After completing a successful 10-year run as a TV producer, Kloss was eager to dive back into the medical industry as a nurse and anesthetist. She quickly realized how difficult it was to land on-request nursing gigs and like many, felt frustrated with the industry's broken credentialing and hiring process.
Kloss soon tapped her deeply seeded network to fine tune the evolving concept of SnapNurse and to build out her team. SnapNurse, a platform that allows healthcare facilities access to on-demand nurses and other healthcare professionals, saw explosive growth in 2020. Before the pandemic, the platform would connect five to 10 nurses at a time to hospitals that needed extra help for elective surgeries. During the pandemic, SnapNurse deployed 500-1,000 nurses across 25 facilities for a rapid Covid-19 response. CEO Cherie Kloss said she crammed 10 years of business development into six months. Revenue grew 9,900%, and she added 100 more employees. About 50,000 nurses use the platform, which uses automated technology to keep up with demand.
Jeff Yan Jiang, MD
Medical Physician
Founder, Atlanta Chinese Entrepreneur Club
Jiang is a veteran of the pharmaceutical industry for over 30 years and familiar with the pharmaceutical market. Jiang founded The Atlanta Chinese Entrepreneur Club (ACEC) in 2017, which is one of the most prominent Chinese organizations in Atlanta. ACEC has been committed to building a platform for Chinese entrepreneurs to learn, to share, to help, and to support one another in solidarity. While advocating for Chinese business, ACEC has been promoting the charity concept of members' giving back to society by actively participating in many charitable social activities.  During the peak of the 2020 pandemic, under his leadership, ACEC launched the "We Together" campaign encouraging Chinese communities to donate PPE to local communities, police stations, hospitals, and senior living communities. Within a month ACEC donated more than $100K of PPE, which gained the attention of local news media.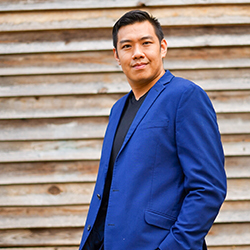 Jaesen Khounthalangsy
Design Engineer, YKK AP
President, Laotian American Society of Georgia
Jaesen has become the voice of the next generation within the Laotian community. From 2019 to present day, he has increased the participation of volunteers from the "millennial" and "GenZ" age group. His strengths consist of understanding his team and going up and beyond to ensure that he optimizes the strengths and talents of others within his team, in order to achieve one common end goal. His contribution to his community has been far from unnoticed. In 2020, he led his team in Operation Lunchbox, the Covid-19 Food Box Drive and as well as the Covid-19 Care Package Project for seniors within his community. Thanks to the leadership of Jaesen, hundreds of families received care packages during the pandemic. Never before was the Laotian American Society able to pursue this project on such a large scale, but with the guidance of Jaesen, his team was able to cover all Lao communities from north Georgia in Habersham County all the way to southern Georgia towards Savannah and Macon. Creating and empowering leaders from the next generation and giving back to the community who raised him is his greatest passion in life.
Sean Sun Won Kim
Founder, Supreme Wireless & Applaso software company
Regional Director, next generation of
World OKTA (Overseas Korean Traders Association)
As 1st graduate of Atlanta World OKTA chapter in 2005, he has dedicated himself on growth of young generation group which includes Korean-American who are between 21 to 40 years old with careers ranging from CEO of professional firms to students and contributed his own budgets and time to build a strong foundation what is known as OKTA Next Generation Chapter in North America including USA and Canada. More importantly, through this leadership, he has connected opportunities for younger generation that helped them experience entrepreneurship and business ownership. Finally, he remains active and continuously looking for ways to secure and provide more opportunities for young professionals via OKTA in North America.
Ben Ku
District 2 Commissioner
Gwinnett County
Ben Ku was first elected to the Gwinnett County Board of Commissioners in 2018. District 2 includes Peachtree Corners, Berkeley Lake, Norcross, Tucker, and Lilburn.  A Georgia native, Ben is the grandson of Chinese immigrants who moved to Atlanta to help engineer the original MARTA heavy rail system. Ben has more than 20 years of entrepreneurial and software development experience.  In 2016, Ben participated in the Gwinnett 101 Citizens Academy, which sparked his interest in County government. He helped create and then served on the Gwinnett 101 Alumni Advisory Board. He received the Gwinnett 101 Alumni Distinguished Service Award for Most Volunteered Hours in 2017.
Shandry Law
Co-Founder & CEO
Farmer's Basket Restaurant Group
Shandry Law is an accomplished and successful entrepreneur in the Atlanta restaurant industry. She and her husband are proud owners of the popular Farmer's Basket Restaurant, a mall-based food court restaurant chain that serves farm-to-table fresh comfort food with stores in major malls in Atlanta, including Lenox Square, Cumberland Mall, Peachtree Center Mall, Perimeter Mall, North Point Mall, Mall of Georgia, Town Center at Cobb and Riverchase Galleria in Alabama.
Shandry is an active philanthropist in the AAPI community in metro Atlanta and Georgia. She supports and fundraises various Chinese Community organizations as President of Chinese-Americans Lions Club of Atlanta, Vice Presidents in Chinese Community Center (CCC), OCA-Georgia, Atlanta Restaurant Association (ARC) and Kwong Tung Association of Atlanta. Shandry is a board member of Chinese Business Association of Atlanta (CBAA), National Association of Chinese Americans (NACA) and Hong Kong Association. She is also the Chairwoman and patron of Chinese American Cultural Performing Group.
Dominic C.K. Leong
Co-owner & Co-Founder
Sealed Meals
Dominic is one of the co-owner & co-founder of the technology based manufacturing company based in Atlanta, Georgia. He has been providing community assistance to local communities, engaging in charitable donations and lending its strengths in leadership, creativity, and mentorship. Despite the pandemic in 2020, Dominic has managed to established a state of art USDA approved manufacturing facility in Doraville. The group was awarded the first patented technology based pasteurization process in the US.  Under his leadership, the Atlanta Ronald McDonald House Charities is one of several locations where they have provided meals for the people in need. First responders, law enforcement, and fire rescue departments have been enrolled as a part of his company's donation program, keeping the front line fed during these hardships.
Maggie Mers
Founder & CEO
MBM International Logistics
Maggie has demonstrated leadership in the AAPI community for the past 30 years. She has supported many Chinese and Asian community organizations for the wellbeing of the community. Maggie is currently serves as Senior Vice-President of National Association of Chinese Americans (NACA). She is an active participant in the Leadership Atlanta 2020-2021 class.
Maggie utilized her leadership skill and leveraged her logistic assets to assist both China and the US with the pandemic. Over 1,000,000 medical mask airlifted to Wuhan, China during the height of the pandemic and also helped released over 1 million masks in JFK was held up by the FDA at JFK airport.  Her leadership paves the way for over 65,000 surgical masks to be donated to the local hospitals, nursing homes, and police stations. On behalf of NACA, she made generous contribution to the GSU students emergency fund and local school kids that in needed help during the pandemic crisis.
Lily Pabian
Executive Director
We Love BuHi
Lily Pabian joined We Love BuHi as its Executive Director in the fall of 2019. When asked why she loves Buford Highway, her answer is simple, "because it was our family's first and forever home." As a former development director of a local nonprofit serving individuals who are blind or visually impaired, Lily understands the importance of relationships and the power in communication and what these two forces mean to communities when brought together through integrity and a continuous reflection of ones' personal gut check. If it feels wrong, it probably is.
With a background in journalism and cultural anthropology, Lily has a passion for all things related to culture, diversity, and history. She believes that advocacy starts when people are tuned in and are asking questions. Sharing meals, art, family systems, wisdom, information, and traditions from one generation to the next are just a few examples for purposeful engagements and life-impacting narratives.
As an Atlanta native and mother of three community-active teens, Lily served as a member of Fulton County's School Governance Council, PTSA President, and was a proud recipient of GADOE's Parent Leadership Award.
Mary Jane B. Rolen
Management and Program Analyst, Social Security Administration
President, Philippine American Chamber of Commerce Georgia
Jane advocates for the Filipino and AAPI communities' civil rights, diversity and equal opportunity within her work and in the community.  In 2020, Jane was the Chair of the "Filipino-American History Month" celebration, (FAHM) which was her brainchild in 2019. She initiated and Chaired this project in 2019 and in 2020. During the whole month of October, she brought the entire Filipino community together by collaborating with all the leaders of the 100 plus Philippine organizations, to deliver very successful series of weekend events in October. Jane is the current President of the Philippine American Chamber of Commerce, GA Inc., (PACCGA), for 2021-2023. Since she took office on January 2021, Jane has already increased membership to 25% by initiating the "Membership Drive" project, and the "On-Boarding and Networking" events. She has since partnered and collaborated with different businesses in the state and forging partnerships with different Chambers of Commerce.
Benny StaRomana
Business Consultant
UGA Small Business Development Center
Benny provides coaching and guidance to small and medium-sized businesses in all stages of the business life cycle, from start-up to exit. His areas of specialization are strategic planning, business process improvement, and marketing & sales. His contribution to the entrepreneur circle are his mentorship and professional advises for new businesses.
Prior to joining UGA-SBDC, Benny founded and operated a management consulting company that was awarded the grand prize of Gwinnett County's 2011 Amazing Entrepreneur competition. He offers clients his management and professional experience from more than 20 years working with Global 100 companies as well as small, rising companies. Benny is an active member of Philippine American Chamber of Commerce (PACCGA).
Dr. Binh Tran
Associate Professor of Information Technology
Georgia Gwinnett College
Dr. Binh Tran loves teaching and interacting with his students, and all his efforts have shown results in him being ranked as one of the top ranked professors at the college and the state. Dr. Tran was honored with 2019 Regent's Excellence in Teaching Award, the University System of Georgia's highest faculty honor. He passionately volunteers his time outside the classroom to help the community of IT students with job finding skills, bringing certification programs on-campus, developing new curriculum and participating in GGC's various outreach programs. He continuously collaborates with other professors at the college to publish new publications to contribute to the professional community. Dr. Tran was honored with 2020 Outstanding Faculty Mentor Award.
But aside from his academic achievements, Dr. Tran also truly enjoys helping others anyway he can and makes it his mission, always remembering his humble background and looking to pass on his spirit of gratitude and generosity. His favorite quote to live by is: "We make a living by what we get. We make a life by what we give." -Winston Churchill.
Jonathan "JT" Wu
Founder & Executive Director
PREFACE Project
JT founded Preface with one goal in mind: helping children of all backgrounds gain access to the tools, resources, and mentorship necessary to achieve their American Dreams. As a child of immigrants, who were themselves scholarship graduates of the University of Mississippi, JT has witnessed firsthand the transformative impact that access to education can have on young lives and is passionate about fostering those opportunities in Gwinnett County – and beyond.
JT remains active in his community, serving on leadership at Brookhaven Presbyterian Church and acting as a Founding Principal of BCD Properties, an affordable housing initiative aiming to reduce rent-dependence and wealth inequality in the metro Atlanta area. Additionally, he serves on the board of the Alchemy Sky Foundation, a music-oriented support system for Georgia veterans, and sits on the Board of Trustees of the Gwinnett County Public Library, the Jacqueline Casey Hudgens Center for Art and Learning, and the Special Needs School of Gwinnett. He has been honored by YNPN Atlanta as one of its 2020 30 Under 30 Nonprofit Leaders and serves on the Young Professionals Advisory Board for the Gwinnett County Chamber of Commerce.
An alumnus of the McCallie School, JT received an A.B. cum laude in Public Policy from Princeton University's School of Public and International Affairs, specializing in international institutions and global governance, while simultaneously obtaining dual certificates in Finance and East Asian Studies.
Akinori Yokosawa
Manager, JV Asia Sales
Delta Air Lines
Yokosawa is overseeing Sales and Distribution strategy of Delta and JV Partner Korean Air. He is responsible for developing and achieving Delta's key strategic sales objectives for 16 Asian countries including Japan and Korea. Akinori and his team represent Delta for various Asian community organizations across the United States. A 28-year Delta veteran, Akinori began his carrier in Customer Service department at Narita Airport in Japan.
Yokosawa contributions to the Japan American Society of Georgia, the Consulate General of Japan, Japanese Chamber of Commerce of Georgia, JapanFest, and so many other Japan-related groups not only in Georgia but throughout the U.S. He has also supported countless U.S.-Japan business development projects, cultural and student exchanges, and promotes friendship between the Japanese and Americans through his social networking activities as well. 2021 marks the 10 year anniversary of the Great East Japan Earthquake and Tsunami that devastated the Tohoku region in Northeast Japan – Akinori's home area where his family still lives. During the JASG's 10 Year Commemoration Program, Akinori shared his community service in relief/rebuilding efforts and also taking volunteers, gospel artists, and baseball teams from the U.S. to Japan. His most recent moment of pride was when Hideki Matsuyama won The Masters in Augusta as he is from the same area as Akinori and said his victory was for all those affected by the disaster 10 years ago.