Rome, April 17, 2018 – On January 9, 1324, the Venetian traveler, merchant and writer Marco Polo was preparing for his final journey – to the afterlife that he as a God-fearing Christian was certain existed.
Aged 70, Polo summoned a priest-notary to his home in Venice to record his words in Latin on a sheepskin measuring about 67 x 27 cm (26 x 10 inches).
Now, a three-year study of the will by scholars and historians offers a fresh glimpse into Polo as well as more support for the commonly-held view that he visited China, which some historians had questioned.
Venice's National Marciana Library, custodian of the will, has co-published a large-format book, which contains a parchment reproduction of the nearly 700-year-old will, including marks left when the sheep was sheared and ink stains on the writing side.
The work, called "Ego Marcus Paulo Volo et Ordino" ("I, Marco Polo, Desire and Order"), is intended mostly for collectors, history buffs and libraries. It was produced with Scrinium, a Venetian publishing house.
"The last 'diplomatic transcription' of the will is 150 years old," said Stefano Della Zana, Scrinium's cultural director, referring to the term used by experts who study ancient letters and handwriting to produce modern interpretations.
"This was done with the latest scientific techniques and scholarly standards of philology, so previous errors have been corrected," he said.
In one case, a scribbled Latin word that had previously been believed to refer to fabric was corrected to mean a residence.
One of the causes of the misunderstanding, according to Professor Attilio Bartoli Langeli, was because the notary's handwriting was "decidedly bad cursive script, awkward and careless".
Polo left money to Church institutions in Venice, forgave outstanding debts, and freed his indentured servant, a Tatar he had named Peter, "so that God may absolve my soul from all guilt and sin".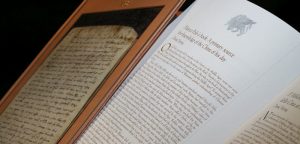 In the late 20th century a few historians argued that Polo never made it to China but picked up stories of the Mongol Empire from Persian merchants he met on the Black Sea.
Most historians have rejected this view and Della Zana said the fact that Polo's servant was a Tatar, who were a Mongol people, supports evidence that he did get to China.
Further evidence lies in an inventory of Polo's possessions that surfaced after his death and listed items from the far east, such as expensive musk.
Apart from the money bequeathed to the Church, Polo left nearly everything else to his wife and three daughters. Della Zana said this was uncommon because it was then customary for men without sons to leave their assets to male members of the extended family.
"In that sense, he was well ahead of his times," Della Zana said. – Reuters