PyeongChang, South Korea, February 9, 2018 – U.S. Vice President Mike Pence made only a brief appearance at a reception marking the start of the Winter Olympics on Friday, avoiding a potentially awkward encounter with the ceremonial leader of North Korea attending the same event.
The reception in the mountain resort of Pyeongchang came hours before North and South Korean athletes marched together at the opening ceremony, the culmination of months of work by Seoul, which seeks to use the Olympics to ease tension spurred by North Korea's pursuit of nuclear weapons.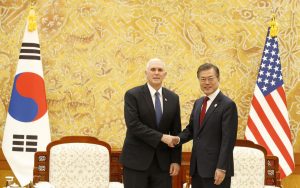 Ahead of the reception, hosted by South Korean President Moon Jae-in, South Korean media said Pence was expected to be seated opposite Kim Yong Nam, North Korea's nominal head of state, at the 12-seat head table.
But South Korea's presidential Blue House said Pence had a meeting scheduled with U.S. athletes and had only planned to stay briefly to greet other officials.
Pence shook hands with other leaders, including close ally Japanese Prime Minister Shinzo Abe, but not Kim Yong Nam, according to a Blue House pool official.
Earlier on Friday, Pence said Moon gave his backing to additional measures the United States is planning to try to curb North Korea's missile and nuclear programs, speaking after paying tribute at a South Korean memorial.
At the opening ceremony, Kim Yong Nam and North Korean leader Kim Jong Un's sister, Kim Yo Jong, waved to North and South Korean athletes who marched under a unified peninsula flag for the first time in a decade.
Moon later officially declared the Olympics open, followed by a burst of fireworks. South Korea's figure skating superstar and Olympic gold medalist Kim Yuna lit the Olympic cauldron.
The high-ranking North Korean delegation had landed in South Korea earlier in the day aboard Kim Jong Un's white private jet which had the Democratic People's Republic of Korea, North Korea's official name, inscribed in black in Korean on its side, followed by the North Korean flag.
Kim Yo Jong and her delegation were greeted by government officials, including Unification Minister Cho Myong-gyon, before boarding a bullet train to Pyeongchang. A special train had been prepared just for the visitors, a Blue House pool report said.
Smiling and seemingly unfazed by cameras flashing during the airport meeting, Kim Yo Jong wore a black coat, matching ankle boots and carried a black purse. Dozens of South Koreans at the airport tried to snap photographs of her on their mobile phones.
She was the first member of North Korea's ruling family to visit the South, while Kim Yong Nam was the most senior North Korean official to make a cross-border trip.
U.S. Vice President Mike Pence, North Korea's nominal head of state Kim Yong Nam, and North Korean leader Kim Jong Un's younger sister Kim Yo Jong attend the Winter Olympics opening ceremony in Pyeongchang, South Korea February 9, 2018. Yonhap via REUTERS
The pair will have lunch with Moon at the Blue House on Saturday, Moon's office said.
RIOTS AND GAMES
Pence had kept open the possibility for some contact with the North Koreans in South Korea, while reiterating Washington's insistence that denuclearization by North Korea is a necessary condition for permanent peace.
Pence, Kim Yo Jong and other world leaders attended the opening ceremony in Pyeongchang, just 80 km (50 miles) from the heavily fortified border between North and South Korea.
Pence stood to welcome the U.S. athletes as the Korean pop hit Gangnam Style blared around the stadium, sparking the 'Horse Dance' in the crowd and among the volunteers.
Hundreds of anti-North Korea protesters scuffled with riot police hours not far from the main stadium before the opening ceremony began, with some of their banners reading "Moon regime is leading Korea to destruction".
Thousands of spectators, including a squad of more than 200 North Korean cheerleaders, packed the frigid stadium for the opening ceremony.
"It is not as cold as I expected. It is a blessed day. I like the reconciliatory mood and I have high expectations," said Kim Sang-yoon, a 44-year-old businessman who drove nearly five hours to see the opening ceremony with his wife and two sons.
Nearly 500 North Koreans have arrived in South Korea for the Olympics, which run until Feb. 25.
Athletes from the 93 countries marched to the beat of K-pop songs, which also included global sensation boy band BTS' 'DNA'.
Elsewhere in the stadium, a Kim Jong Un impersonator was not made as welcome as the North Koreans in the VIP box and was ejected by security.
"Well is my sister getting the same treatment?" he demanded to know.
Despite freezing temperatures, Tongan athlete Pita Taufatofua bore his country's flag again, oiled up and shirtless as he was when his appearance at the 2016 Rio Olympics went viral. -Reuters